100% Cotton Face Masks with flexible nose bridge design
*We take customized orders of any color and logo of your choice! Please contact us at team@emiliageorgeofficial.com
.
40% for 2 or more mask purchases with code "mask40" Free UPS ground shipping on orders of 8 or more
Emilia George Face Masks are seen on Vogue, Forbes, Good Housekeeping, Popsugar, and many more.
. 
We are so happy to be able to donate part of our inventory to daycare centers and schools around the country that are open for children of essential workers.
#StrongTogether
Equipped with a flexible nose bridge design to ensure the face mask rest on the nose securely during use (see picture) It works well for glass wearers. :)
Soft and breathable - Made of 2 layers of 100% Cotton, lined with doubled 100% sheer cotton
Adult Size: 7.5" X 3.5 ", Kiddo Size 5.5" X 2.5", can be expanded for maximum face coverage
Adjustable fabric strings to accommodate all face shapes, each string length is 9"
Hand wash in cold water
Hang dry
Non-medical grade
Imported
Want more options?
For health and safety reasons, all sales of face masks are FINAL. No returns or exchanges allowed! 
Customer Reviews
10/02/2020
Douglas S.
United States
My Favorite Mask
By far my favorite mask
09/08/2020
Margaret J.
United States
Still the Best
This is my 2nd order of masks from Emilia George and they are still the best masks by far !
09/03/2020
Lisa P.
United States
Softest Face masks
The cotton fabric is soft. Washes well. The pleats make the mask fit close around the mouth and nose. The most comfortable ones I've found so far. I wish they had the pleated masks with adjustable ear loops. Otherwise they're my favorites.
08/10/2020
Sandra F.
United States
Cotton Face Masks with flexible nose bridge
I love this mask, it's my number one favorite. It is so, so soft, and easier to breathe in than any other I've purchased. I also love the flexible nose clip. I have 10 masks; this and one that my seamstress handmade for me are favorites.Emilia George is number 1. The only thing I do not like and doesn't work for me is the ties to adjust it over ears. Too hard for me to tie and adjust it. I'm going to try to find some kind of clips to add so I do not have to tie them. They'd definitely be a 5 star if they were easier to adjust ties. I purchased 2 of them in June and may buy 2 more tonight. Hopefully I will be able to find some kind of clips at a Michaels or Hobby Lobby so that I can adjust them easily vs the existing tie straps. I also love the material the straps are made from. With my arthritis in hands and shoulders, it's too hard to adjust by tying them. Highly recommend them if you think you'll be ok with tie strips. Masks make it easier for me to breathe, as advertised.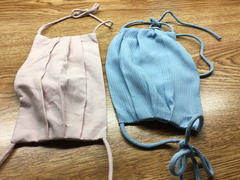 Thank you so much Sandra!! So glad you love them! You can also check out our cotton masks with adjustable elastic earloops! We only have black and white and only a mere few left. ❤️
08/03/2020
Mary W.
United States
Lovely Masks & Customer Service
This is a nicely sewn mask and wide enough for my square face. :) The new longer strings are helpful, so I can tie the mask around my head instead of my ears (the "surgical method" that prevents gaping material at the sides). Also, the colors are cute and fairly accurate to screenshots on the site. Lavender, blush, and beige are fairly neutral and can be worn with most colors! Note, customer service is helpful if you have a problem. (Not all online stores are friendly.)
Women's Maternity Size Guide (Body Measurements)
| | | | | | | | | | |
| --- | --- | --- | --- | --- | --- | --- | --- | --- | --- |
| | 2 | 4 | 6 | 8 | 10 | 12 | 14/16 | 18/20 | 22/24 |
| Bust | 33 | 34 1/8 | 35 1/4 | 36 1/4 | 37 1/4 | 38 3/4 | 44 | 48 | 50 |
| Waist | | | | | | | | | |
| Hip | 35 7/8 | 37 1/8 | 38 1/4 | 39 1/4 | 40 1/4 | 41 3/4 | 46.5 | 50.5 | 54.5 |
Alpha Equivalents
Alpha Equivalents
Alpha
Numeric
Alpha
Numeric
ex: M
8-10
ex: M
8-10
XXS
2
1X
14/16
XS
4
2X
18/20
S
6
3X
22/24
M
8
L
10
XL
12